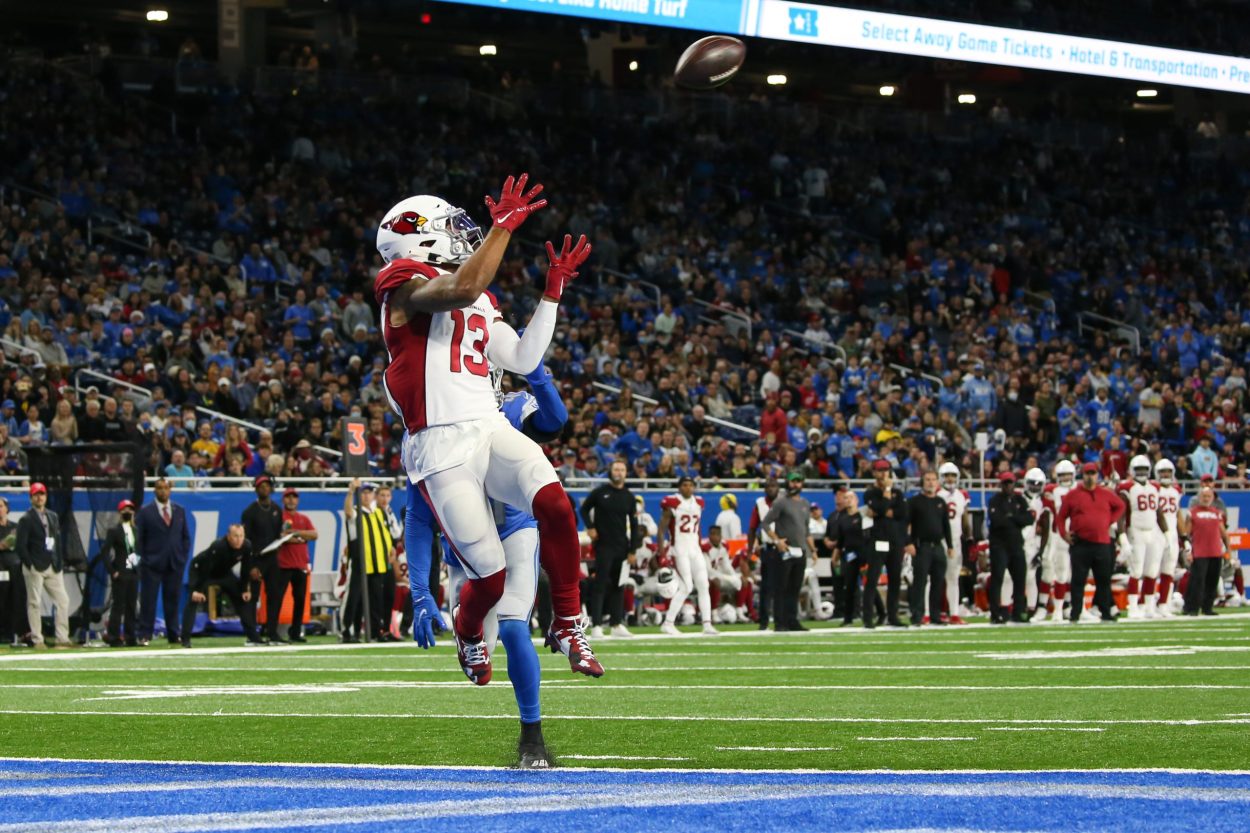 Christian Kirk and the 5 worst signings
The 2022 NFL free agency period did not disappoint at all. The money was shuffled at a record pace, with Aaron Rodgers and Deshaun Watson igniting the quarterback market. Davante Adams also signed a new contract after the Green Bay Packers sent him to the Las Vegas Raiders, forcing Tyreek Hill to leave the Kansas City Chiefs for a big payday.
The story continues on and on, and there will be plenty of new faces in other cities once the 2022 season begins. However, there have been some utterly atrocious deals in free agency. Let's look at the five worst signings so far, and we all know who takes the cake as the biggest overpayment.
5. Randy Gregory, Denver Broncos
The Denver Broncos were unable to bring Von Miller back and instead landed Randy Gregory. Just when it looked like Gregory was returning to the Dallas Cowboys, he reversed course and decided to head to Mile High City.
Gregory is a major signing for Denver, who needed to add a passing thrower, especially with the way things have turned out in the AFC West. But this amount of money for Gregory is concerning for several reasons.
First, Gregory was suspended three times during his NFL campaign and missed a lot of games to start his career. Second, he's missed 11 games over the past two seasons, which should be a red flag for most teams.
Gregory tied a career high in sacks in 2021 with six of 12 games and the Broncos are certainly hoping he can replicate that success in a new uniform. He's on this list because $14 million a season is a pretty penny for a 29-year-old passing thrower. But, maybe the change of scenery works for Gregory. Von Miller was close to making this list, but he had another stellar run and was instrumental in the Los Angeles Rams' Super Bowl victory.
4. Will Dissly, Seattle Seahawks
What's going on in Seattle?
The Seahawks traded Russell Wilson in a blockbuster deal and acquired a flurry of picks, Drew Lock and Noah Fant. Thus, Fant takes over from Gerald Everett, who headed to the Los Angeles Chargers.
Then, for some reason, the Seahawks signed Will Dissly to a three-year contract worth $24 million. Yes really.
Dissly's career statistics are disheartening. He had 76 catches for 900 yards and nine scores during his four-year NFL career, and he's only had 21 catches for 231 yards and a score in 2021.
Dissly is better suited as a blocker than a receiver, so paying him $8 million a season is confusing, mostly because they acquired Fant. It's another confusing move from Seattle, and the only reason he's at No. 4 on this list is because of the lower salary than the rest of the guys.
3. Chandler Jones, Las Vegas Raiders
The revamp in Las Vegas got off to a good start. They traded for Adams and signed Jones to an expensive deal. The Raiders also signed Maxx Crosby for a huge extension, and the duo of Jones and Crosby are dangerous.
However, Jones' contract was undoubtedly surprising. He signed a three-year contract worth $51 million, with $32 million guaranteed. Jones had a great 2021 season, totaling 10.5 sacks. In 2020 he only played five games and had one sack, but in 2019 he set a career high with 19. It's also worth noting that half of Jones' total sacks in 2021 came against the Tennessee Titans in Week 1.
Since joining the New England Patriots, Jones has been a force for the Cardinals, but they felt it was time to move on. On the other hand, even with Jones' stellar play, this contract is concerning because of his age. He just turned 32 in February, and questions remain over whether or not he can replicate the success until the age of 34 or 35.
The Raiders could get the most out of Jones, especially with Crosby on the other side, but this contract feels a bit like an overpayment.
2. Marcus Mariota, Atlanta Falcons
The Atlanta Falcons needed a quarterback after failing to win the Deshaun Watson contest, then traded longtime starter Matt Ryan. Right after the trade with Ryan, they brought in Marcus Mariota.
The former Oregon Ducks star is reuniting with Arthur Smith, his offensive coordinator during his tenure with the Tennessee Titans, so the signing makes sense. At first glance, Mariota's contract looks like an overpayment. But, the Falcons front office did a decent job of language in this deal.
So why is he on this list?
Well, who else was in the market for Mariota? Most QB-needy teams had either traded or signed a QB. Jameis Winston always came back to the New Orleans Saints, and it was basically the Carolina Panthers and Seattle Seahawks as the only options.
Other than that, the Falcons seem destined to select a QB in the first round of the NFL Draft, with Malik Willis and Kenny Pickett emerging as serious options for Atlanta. Still, the Falcons brought in Mariota. Let's say Mariota plays pretty well in 2022 and they decide to take his option in 2023 (which is a bit expensive). That would mean the rookie is left two years behind Mariota, which could do more harm than good.
Additionally, the Falcons are not a playoff team and lack weapons on offense except for Kyle Pitts and Cordarrelle Patterson. They could have used that money elsewhere and just played rookie in 2022 instead of getting Mariota.
Don't get me wrong, this could work, and Mariota deserves another chance to start a job. But perhaps the Falcons could have waited and signed him to a much cheaper one-year contract.
1. Christian Kirk, Jacksonville Jaguars
The Jacksonville Jaguars spent a ton of money this offseason, and it all started with Christian Kirk. They wasted no time adding a gun to Trevor Lawrence and signed Kirk to a four-year contract worth $72 million, which could rise to $84 million depending on incentives.
But it's a huge overpayment for Kirk. He has yet to produce a 1,000 yard season in the NFL, although he will come close in 2021 (982 yards). Kirk plays in the slot most of the time, and that much money for a slot receiver is an interesting move.
Kirk's contract changed the entire landscape of the WR market; look what Adams and Hill got. Kirk could make this deal look like an absolute steal, but it probably won't. Instead, the Jaguars will revisit that contract in a few years and wonder what they were thinking.
With that kind of money, they could have made a run at an Allen Robinson II reunion or even a guy like Jarvis Landry for a much lower price. Kirk is by far the worst signing of the 2022 NFL free agency period.
Statistics courtesy of Professional Football Reference
RELATED: Von Miller Reveals 4 Reasons He Signed With The Buffalo Bills, And None Of Them Are His $120 Million Dealyou