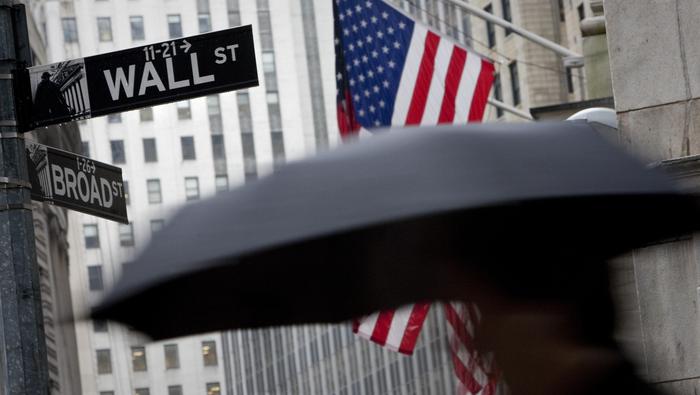 Nasdaq 100, US Dollar, BTC/USD, Crude Oil, PCE Data, Growth Issues
Global market sentiment improved last week. On Wall Street, futures on the Nasdaq 100, Dow Jones and S&P 500 gained 7.25%, 5.25% and 6.34% respectively. In Europe, the Euro Stoxx 50 and the FTSE 100 both climbed around 2.75%. Meanwhile, in the Asia-Pacific region, Japan's Nikkei 225 and Australia's ASX 200 rose 1.23% and 0.77% respectively.
Stock traders found some comfort in weakening government bond yields. The 2-year Treasury yield weakened 3.83% last week and is down more than 10% from this year's high so far. The University of Michigan's finalized survey of inflation expectations cooled unexpectedly in June, perhaps an early stage when inflation could have found a turning point.
As a result, the US dollar weakened against its major peers, suffering from both improving sentiment and falling Treasury yields. One would have thought that the sentiment-linked Australian and New Zealand dollars would do well in this environment, but that was not the case. Bond yields fell more sharply in Australia and New Zealand, hurting the AUD and NZD.
Australia is an economy closely tied to the global economic cycle, making it vulnerable to growing fears of slowing growth around the world. Speaking of which, this will likely become the next big theme in the coming months as central banks tackle high inflation. Trying to reverse rising prices is one thing, but then finding a sweet spot without overshoot is another.
Nor is it surprising to see crude oil prices soften amid growing concerns about recessions. The commodity is quite strongly tied to global growth estimates. Bitcoin prices have also slowed their astronomical descent. Cryptocurrencies in general are very vulnerable to a rising interest rate environment. The stabilization of BTC/USD likely reflects optimism about the turn of inflation.
What does the week ahead hold for us? From the US, all eyes are on the Fed's favorite inflation indicator, the core PCE. This will be for the same period that the headline CPI data surprised higher. Another strong impression could easily reverse some of the optimism we have seen in the markets. Speeches from various central bankers are also expected. German consumer confidence and inflation are due. What else is in store for the markets in the coming week?
PERFORMANCE IN US DOLLARS VS. CURRENCIES AND GOLD
Fundamental forecasts:
Euro Weekly Forecast: EUR/USD needs a boost ahead of key economic data next week
The Euro emerged from the intense week relatively unscathed as it heads into another week full of key economic data as EUR/USD holds above 1.05.
British Pound Weekly Fundamental Forecast: Unflattering British Pound Set To Continue
The British pound ends the week slightly higher, but price action over the past 72 years has been essentially flat. Crucial PCE inflation next week and final GDP numbers in the US and UK.
Market Week Ahead: Predictions for the S&P 500 and FTSE 100
The global central banks' price revision causes a bear market rally. Downside risks remain, however.
Gold prices eye bullish reversal as outlook for silver clouded by recession fears
Gold and silver tend to show a close correlation, but their performance could start to diverge as the growing likelihood of recession dims the outlook for some precious metals with industrial applications
Australian dollar could fall as global growth fears escalate
The Australian dollar traded as a barometer of market recession fears. It could fall over the coming week as global growth concerns continue to escalate.
Technical forecasts:
S&P 500, Nasdaq 100, Dow Jones Predictions for the week ahead
Inventories have stabilized and look set to continue to recover in the coming days/weeks; levels & lines to know.
Japanese Yen Technical Forecast: USD/JPY Chart Shows Mixed Signals to 2002 High
The Japanese Yen's rapid descent against the US Dollar moderated last week as prices hovered around the 2002 high. Mixed chart signals give USD/JPY a mixed outlook for the week ahead.
US Dollar Forecast: Positive Slope in 50-Day Points Towards USD Breakout
The US Dollar Index (DXY) may attempt to break if it continues to follow the positive slope of the 50-day SMA (103.04).
Crude Oil Price Outlook: Breakout of WTI Trendline Creates Problems as Retail Traders Buy
Crude oil prices are threatened by growing concerns over slowing economic growth, with WTI falling below a key trendline. Retail traders are now also in the net majority, a bearish signal.
element inside the
element. That's probably not what you wanted to do! Upload your application's JavaScript bundle to the item instead.