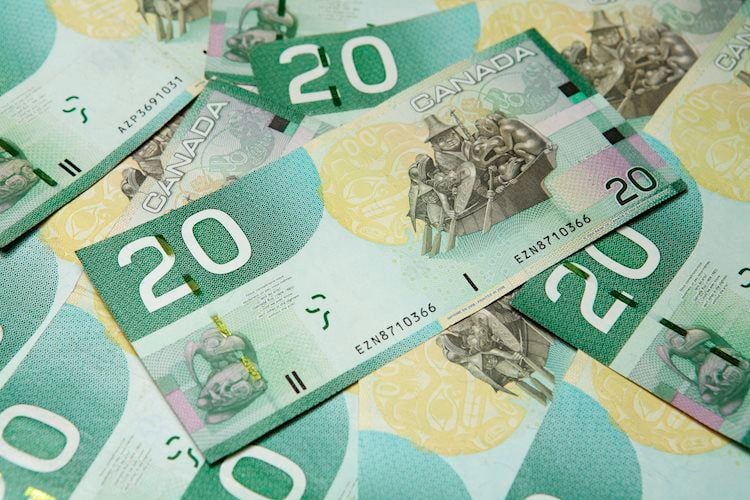 The US dollar featured at the Fed's after party
USD/CAD above 1.3000 for the first time in a month, sets a new post-pandemic high.
The loonie lost 2.0% over the week, 4.0% since June 8.
WTI tumbles 8.1% on US inventory build, recession fears.
FXStreet Forecast Poll reflects technical vulnerability above 1.3000.
USD/CAD traded Friday at a new 19-month high at 1.3078 as the acceleration of Federal Reserve rate hikes and fears of recession prompted a broad-based swing towards the US dollar, and that an 8% collapse in crude oil undermined the loonie.
Federal Reserve governors voted Wednesday for the first 75 basis point hike in 28 years and Chairman Jerome Powell suggested others could follow as the central bank steps up its fight against inflation.
In its annual monetary policy report, released Friday ahead of next week's report to Congress, the Fed reiterated its intention to control inflation. "The Committee's commitment to restoring price stability — which is necessary to maintain a strong labor market — is unconditional," the report promises.
At the previous Federal Open Market Committee (FOMC) on May 4, Chairman Jerome Powell said a 0.5% hike was likely at the next meeting. The 0.75% rise to an upper target of 1.75% for the fed funds was prompted by an unexpected reading of 8.6% in the May annual consumer price index (CPI) last Friday which clearly came as a shock to the governors.
This CPI reading, above March's high of 8.5%, and a reversal from April's decline to 8.3%, led the Fed to the unusual decision to change its rate outlook for its two-week media blackout before the FOMC.
On Monday, the Wall Street Journal published an article, believed to be from the Fed, noting that the rate prescription for Wednesday's meeting was now 0.75%. Markets have taken information as gospel.
The Fed also released its updated economic and rate projections, the second of four each year.
The year-end estimate for the federal funds rate rose to 3.4% from 1.9% in March, implying a doubling from its current level. Economic growth in 2022 fell to 1.7% from 2.8%, PCE inflation rose to 5.2% from 4.3% and core to 4.3% from 4.1%. Inflation is still expected to fall in 2023 to 2.6% for the headline and 2.7% for the core, barely changed from the March projections.
There were no changes to the balance sheet reduction program that began this month with a $47.5 billion roll-off of maturing securities.
Mr Powell dropped a number of general clues during his Wednesday press conference that further increases of 75 basis points are possible, although credit markets have been paying more attention to the growing possibilities of a recession.
Treasury yields were higher on the week, with the 10-year note gaining 8 basis points to 3.235% but losing 25 points from Tuesday's closing high of 3.483%. The 2-year yield rose 12 points to 3.172% and was down 26 points from Tuesday's end at 3.435%.
US economic data highlighted the growing possibilities of recession as inflation dampens consumer spending and rate hikes restrict sensitive sectors.
Retail sales were surprisingly negative in May, housing starts fell the most since April 2020 at the height of the pandemic shutdowns, and the producer price index topped 10% annually for the fifth month in a row.
Inflation is no longer just an inconvenience to consumers, but is beginning to affect economic activity. Industrial production in May at 0.2% was below the forecast of 0.4%, although April was revised to 1.4% from 1.1%.
The outlook for economic growth in the United States fell as the Atlanta Fed's GDPNow model, one of the most watched indicators, lowered its estimate for the second quarter to 0.0% from 0.9%. After the first quarter's 1.5% contraction, the first half is approaching the traditional recession definition of two consecutive quarters of negative GDP.
West Texas Intermediate (WTI) fell 8.3% from Monday's open, closing at $108.27.
The U.S. Energy Information Agency (EIA) reported weekly oil inventories at 1.956 million barrels, well above the forecast decline of 1.314 million and just below the previous week's 2.025 million. Fears of a global recession in the second half of the year that would reduce demand also helped to lower crude prices, as did a slight increase in US production.
Canadian data was soft, with April manufacturing sales and May housing starts coming in close to expectations. The Raw Materials Price Index and industrial product prices for May were higher than expected.
USD/CAD Outlook
The next Bank of Canada (BoC) meeting is a month away on July 13, and while a 75 bp rise is more than possible, it is too far off to have a significant speculative impact on the USD/CAD at unless the bank makes very strong hints that this is happening. Canadian consumer prices for May, released Wednesday, are expected to rise 7.5% overall and 5.9% in the core. Will this prompt the BoC and Governor Tiff Macklem to emulate the Fed? Unlike the US CPI which fell to 8.3% in April before surging back up, the Canadian CPI has risen steadily since last June. If the CPI is stronger than expected, the case for a three-quarter point rise improves.
The combination of aggressive Fed hikes and lower oil prices is a heavy burden on the Canadian dollar.
The USD/CAD outlook is higher.
Statistics Canada June 13 to June 17
FXStreet
US statistics from June 13 to June 17
FXStreet
Statistics Canada June 20 to June 24
FXStreet
US statistics from June 20 to June 24
FXStreet